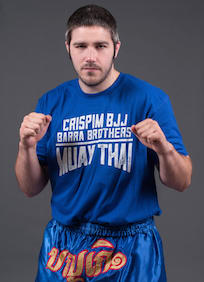 Joe Chernay
We are proud to have Joe Chernay as our Muay Thai Instructor and Coach. Joe was born and raised in Philadelphia, Pennsylvania. He started training at 14 years of age in Brazilian Jiu-Jitsu, and he started in Muay Thai at the age of 15 under Jeff Jones. Joe says, "I started training because I wanted to be a Super Hero. Pokemon and Dragon ball Z were my two main influences."
Over the years, Joe continued his training with an incredible dedication which led him to eventually teach Martial Arts, fight and coach other fighters. His record is currently 6 wins, 1 loss in MMA and 6 wins, 1 loss in Muay Thai.
Joe moved to California in 2012 with his student, Dave Engel, and started training with Bunkerd Faphimai and Neungsiam Samphuri at Fight and Fitness in San Francisco, California. In early 2014, Joe joined the Crispim BJJ & MMA team, where he has been teaching Muay Thai since. Joe is also one of the main coaches for our Amateur and Professional MMA fighters, as well as for our Muay Thai fighters.
Joe states, "I teach because the first time I met Surachai "Chai" Sirisute, I was so inspired by his discipline, his relentlessness, and his sincerity. He believed in me, and made life seem more interesting. He inspired me to help others and spread the passion of Muay Thai." Joe pursued his passion under Ajarn Chai Sirisute, and is ranked as a Full Instructor with the Thai Boxing Association of the USA.
In addition to Joe's training in Brazilian Jiu-Jitsu and Muay Thai, he also trains in Jun Fan Gung Fu and Jeet Kune Do Concepts, Western Boxing, Kali, Combat Submission Wrestling, Savate, and STX (Savate Thai Cross Training).